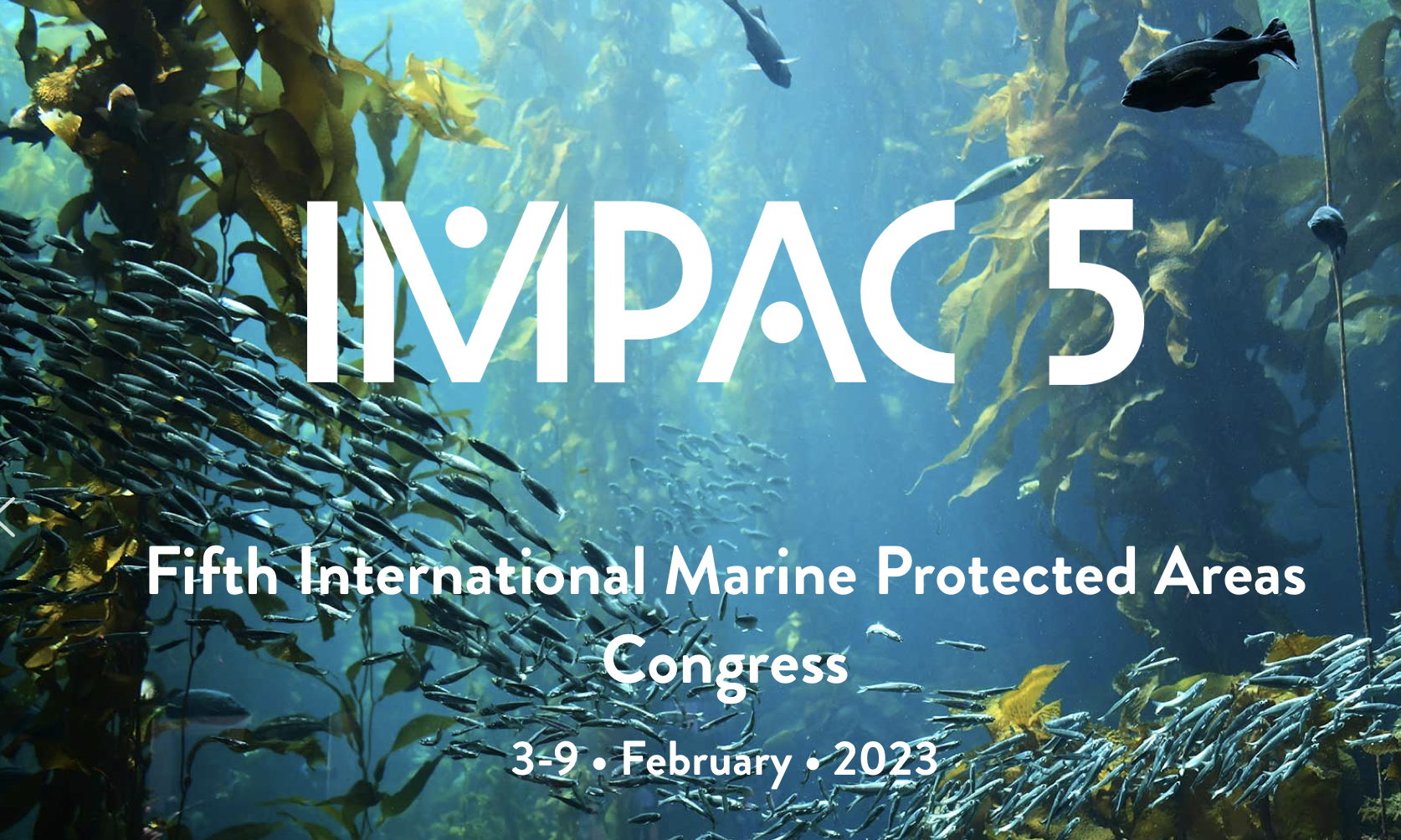 THE INTERNATIONAL CONGRESS ON MARINE PROTECTED AREAS 
The Fifth International Marine Protected Areas Congress (IMPAC 5) is an opportunity for the global collective of marine conservation managers, professionals and decision makers to exchange knowledge, experiences and best practices in order to strengthen the conservation of marine biodiversity and to protect the natural and cultural heritage of the ocean.

The Congress is taking place from February 3-9 at the Vancouver Convention Centre, an internationally recognized and environmentally sustainable facility located in the heart of Canada's greenest city.
IMPAC 5 provides an opportunity for marine protected area professionals from around the world to chart a course towards protecting 30% of the global ocean by 2030.

Congress participants will share knowledge and best practices to ensure the future protection of the oceans and reaffirm their commitment to create a global network of marine protected areas, advance conservation in the blue economy, champion the active management of marine protected areas and human activity, conserve biodiversity and combat climate change and making the connection between ocean culture and human well-being.

During IMPAC 5, participants will come together to develop actions to address declining marine biodiversity and the climate crisis while creating solutions for a blue economy.

BIOPAMA provides a variety of tools, services and funding to conservation actors. During IMPAC 5 the Programme will share the most updated information, knowledge, experience and best practices to strengthen the conservation of marine biodiversity and to protect the natural and cultural heritage of the ocean.
Key highlights from IMPAC
From Earth Negotiations Bulletin
Opening
The 5th International Marine Protected Areas Congress (IMPAC 5), a global forum bringing together Ocean conservation professionals, Indigenous Peoples, Youth, high-level officials and other stakeholders, to address marine protected areas issues, opened on Friday, 3rd February -  on the unceded and ancestral territory of the Sḵwx̱wú7mesh Úxwumixw Squamish Nation, xʷməθkʷəy̓əm Musqueam Nation, and the səlilwətaɬ Tsleil-Waututh Nation.       
Actively managing marine protected areas and human activity
Keynote addresses and parallel sessions highlighting the power of sustainable, inclusive, and resilient approaches, resources, and tools in the design and management of effective marine protected areas.      
Conserving Biodiversity and Addressing the Climate
Watch now the highlights related to the humanities of the climate and biodiversity crises and sharing inclusive approaches to building climate resilience and conserving and restoring biodiversity. Have you thought about the inter-relation between the climate crises and our mental health?
MPA Congress should indicate the path to protecting 30% of global ocean by 2030
With the world's biodiversity in steep decline and thousands of species threatened with extinction, the UN Biodiversity Conference (CBD COP 15) agreed last December a set of goals and targets to address the dangerous loss of biodiversity and restore natural ecosystems. Target 3 of the Kunming-Montreal Global Biodiversity Framework (GBF) aims to effectively conserve 30% of terrestrial, inland water, coastal, and marine areas through protected areas and other effective area-based conservation measures by 2030.
The ocean provides over 90% of the living space for species on the planet and is a critical source of food and livelihoods to billions of people around the world. It generates oxygen, contributes to climate resilience, and helps address hunger and poverty.
The world's leading ocean conservation professionals and high-level officials are in Vancouver, Canada to discuss the way towards the protection of 30% of the global ocean by 2030. Today, an estimated 7.65% of the ocean is covered by marine protected areas (MPAs).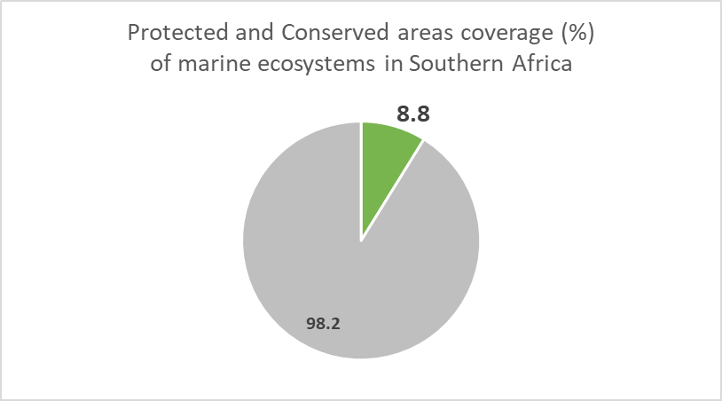 Protection level statistics by regions as of Jan 2023 (EC-JRC (2023). BIOPAMA RIS [On-line], Protection level statistics as of Jan 2023. Available at: rris.biopama.org. Original data source Protected Planet.
 Brown fur seals, Swakopmund, Namibia - Photos from @Gregoire Dubois.
Livelihood dependency on Coral Reef
The chart shows the percentage of ESA countries which have from very high, to high, medium and low dependency on coral reefs. Highly dependent countries are more socially vulnerable to reef degradation and loss from a wide range of human activities including coastal development, overfishing, and pollution.
  Source: Reefs at Risk project by the World Resource Institute. https://www.wri.org/research/reefs-risk-revisited
          Fish and corals, Djibouti - Photos from @Gregoire Dubois.
The Regional Resource Hub has several complementing portals, including the Blue Hub Portal that aims to support the development of a sustainable, inclusive and resilient blue economy where marine and coastal conservation constitute of its key pillar. This initiative will catalyze knowledge production and capacity building efforts in the region to enhance effective marine and coastal conservation at scale.
The Integrated Management Effectiveness Tool (IMET) is a Protected Area Management Effectiveness (PAME) evaluation tool that can be used to terrestrial, coastal and marine protected areas. The upcoming version IMET 2.9 has sections dedicated to marine protected areas, namely on habitats, control and law enforcement. It features intuitive icons for easy navigation and improved formulas that accommodate with the new marine sections.  
OPPORTUNITIES
African Field School on Design and Analyses of Camera Trap Studies
Snapshot Safari and Nelson Mandela University are sponsoring a field course on camera trapping that will take place at Skukuza Science Campus in Kruger National Park, South Africa this coming June. If you know of any graduate students, post-docs, or staff of NGOs and protected areas who want to learn more about camera trap study design and analyses, please share this. We have space for 20 attendees, so it will be first come first serve. Everyone must know at least the basics of R, but we will send out pre-course training materials for those who need them. 
JOB OPPORTUNITIES
Programme Officer, BIOPAMA Action Component - Check here
TRAFFIC Office Director - East Africa - More information
Programme Officer – Species Conservation-SOS - Access the ToR